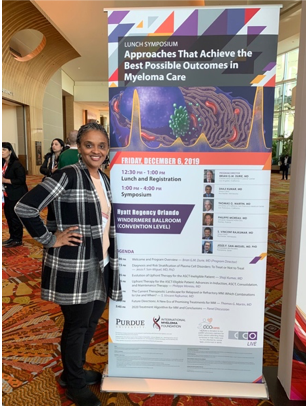 Our day began with the opening session, "Approaches That Achieve the Best Possible Outcomes in Myeloma Care" at the IMF Satellite Symposium. I walked away being reminded of just how unique and challenging Multiple Myeloma (MM) is. The experts don't all agree, and there is often no right or wrong answer in treatment decisions. If it's complicated for the experts, I've decided to give myself some slack for being confused and overwhelmed with treatment options. 
Support group leaders (SGLs) tend to be patient experts in their disease and mentors to other patients. So needless to say, many of the SGLs at the 61st American Society of Hematology Annual Meeting (ASH) fit right in with the medical community as it relates to MM knowledge. I'm always in awe by the knowledge of the myeloma patient community. We take new information back to our community and support groups. However, I am reminded that not all MM patients participate in support groups, and many more aren't active participants in their MM treatment. I never want to forget them in my journey of advocacy.
There are many things I could blog about today. I've tweeted interesting findings and conclusions from yesterday's or today's sessions. However, I as reflect on the last two days, there is one thought that has been on my mind since: "To treat or not to treat." When presenting on the high-risk smoldering myeloma patient, Dr. San Miguel posed the question, should the doctor or the patient decide to treat or not, when there is no decisive data to guide the decision?
I tweeted this slide and posed the question myself for thoughts. While I didn't receive many responses, one response indicated that it is the patient's body; and therefore, their choice. Another suggested that the decision should be made by both the doctor and patient. And yet another stated that it is the doctor's role to provide the information, answer questions, and make recommendations.  
As one would expect, there is no right or wrong answer here, only opinions. As the patient and patient advocate, this question has been on my mind for several reasons. Providers differ in their thoughts on whose decision it is to treat or not to treat. I personally agree with all of those responses suggested above. However, I recognize that it is more complicated than any one of them.
Patients who are active in their care and treatment may have a different opinion than a patient who feels intimidated in the medical setting, or those with lower health literacy, or even those who simply choose to rely on their provider for all decisions. The sexy concept in healthcare today is shared decision-making. But is that reality for all patients? It also suggest that the patient is receiving care at a patient-centered health care center. We know that not all patient experiences are equal, and likewise, not all provider experiences are equal. I see that a possible win-win situation could be one in which the provider shares information, provides answers to questions, and meets the patient where they are with the goal to become active, educated, and shared decision-makers. 
My experience as a patient and nurse has shown me that this isn't everyone's experience. For many, they are fine with allowing the provider to make all treatment decision and that my be fine, for that patient. No judgement! I understand we have to accept that our goals and choices are not applicable for all. I think about members of my personal community who would be unable to learn or retain much of the myeloma disease and treatment process. I worry that they wouldn't receive the same care that I receive. So I ask myself, what can I do to cast a wider net of support. How can I also reach beyond my circle, support group, and community to disseminate the information and knowledge I am gaining at ASH so that all patients with MM have access? My thoughts are simply to point out that like treatment options, this too is complicated. I don't know the solution or have an answer to solve the collective concern, but I do believe that we are all in this fight together!
I look forward attending and sharing thoughts on tomorrow's session, "Outcomes in MM Based on Comorbidities and Race." 
Wishing you Hope,
Tiffany H, Williams