We are well into the flow of the annual ASH meeting. My attendance at ASH19 is as a support group leader (SGL) and as a nurse liaison as a member of the International Myeloma Foundation's (IMF) Nurse Leadership Board (NLB). Of course, in my blood flows the interests and curiosity of an experienced hematology/BMT nurse. I find myself "switching hats" to accommodate the many roles that I play.
So far, I have attended the IMF Symposium, "Approaches To Achieve the Best Possible Outcomes in Myeloma," and many #ASH19 education and oral sessions. These sessions have been specific to multiple myeloma as well as other diagnoses having a focus on quality of life and health outcomes. I have participated in meetings with Pharma partners as an SGL and NLB member, reconnecting with current and past Mayo colleagues, and hearings the inspiring stories heard at the IMF Patient Stories and Grant Reception.
After nearly 30 years in the specialty, I have a continued interest in #ASCT and have attended a number of sessions related to his topic. One of interest to caregivers was on caregiver burden, Paper No: 62 "Quality of Life and Caregiver Burden in Patients and Their Caregivers Undergoing Outpatient Autologous Stem Cell Transplantation Compared to Inpatient Transplantation" by Vinita Dhir, BSc, Princess Margaret Cancer Centre. What's not surprising is the added caregiver stress with an outpatient transplant approach versus inpatient approach. Yet, interestingly, the indirect cost of this approach was also captured. https://ativsoftware.com/appinfo.php?page=Session&project=ASH19&server=eventpilot.us&id=131281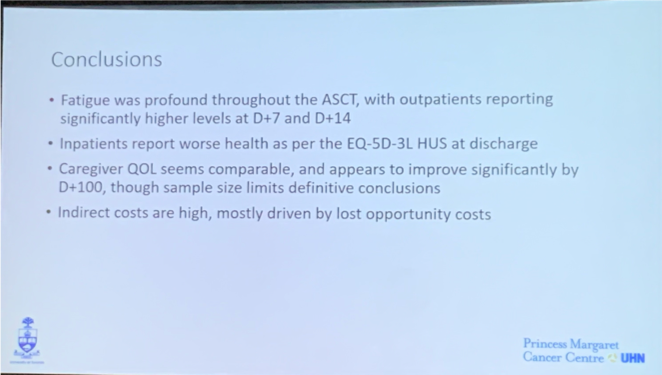 Multiple studies continue to reinforce the benefit of #ASCT, this study by Dr. Gay indicating persistent #mmMRD negativity >1 year post transplant compared to KRD-12.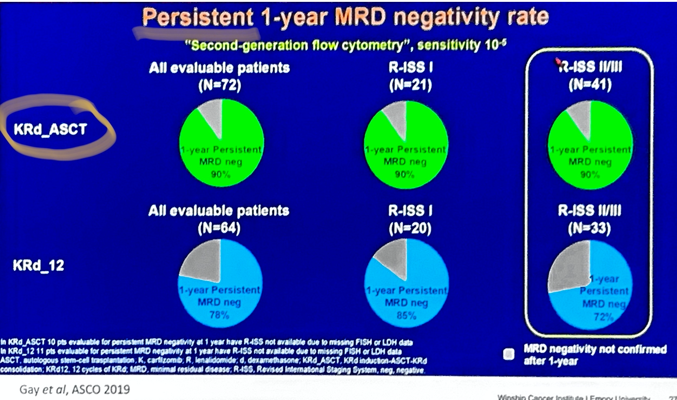 This study by Dr. Mina indicating improved progression-free survival (seen in other studies) AND improved overall survival.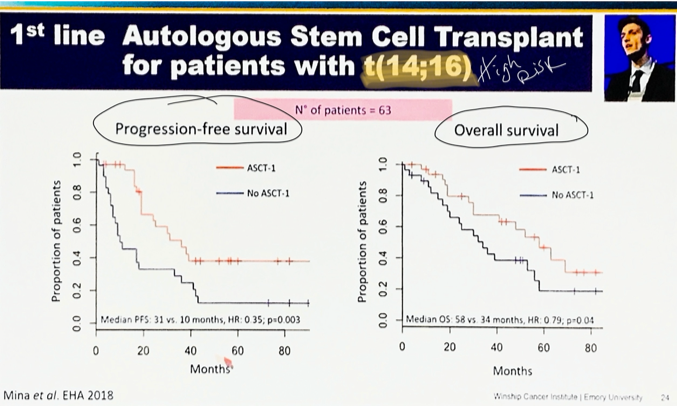 There is continued interest in immuno- and CAR-T therapies and other BCMA targeted therapies. All of these activities remind me that there are so many people and groups invested in the advancement of multiple myeloma treatment and outcomes. The most impressive are those who have the greatest stake in this information – my co-SGL attendees. These patients wake early every day, walk the miles to maneuver the Orange County Convention Center, getting back to their rooms late at night to distribute what they have learned through Tweets, Blogs and Vlogs.
Continue to follow these leaders via social media:
Blogs: https://ash2019blogs.myeloma.org
Tweets: @imfsupport @imfmikemyeloma @johnde1Myeloma @IMFjimMyeloma @jackMAiello @NorthTxMSG @LindaMyeloma @myelomahope @MyelomaTeacher @myelomavalarie @blondie1746 @IMFnurseMyeloma
And get ready for the IMF's Livestream of the #ASH19 highlights, "Making Sense of Treatment" Monday December 9, 2019, 8:30 PM ET.
https://www.myeloma.org/videos/imwg-conference-series-ash-2019-orlando-fl
Teresa Miceli, RN BSN
Rochester MMSS, Facilitator
IMF NLB, Charter member
Mayo Clinic – Rochester, BMT RNCC