I have been a multiple myeloma patient and advocate for 19 years. Time sure flies by! As I reflect back on what treatments were available in 2000 when I was diagnosed, I am eternally grateful for all the progress and interest in multiple myeloma! I'd also like to recognize all the patients that have participated in clinical trials that have gotten us to where we are today.
We have come a long way from the days of high dose dex; 40 mg, 4 days on, 4 days off pulses. I did this for six months in preparation for my autologous stem cell transplant (ASCT) in 2002. I'm happy to say that it worked, but even happier that people have much better options today!
I've been fortunate to have attended ASH with the International Myeloma Foundation (IMF) since 2005. Back then, there were not as many oral presentations or posters, most of which were on "Myeloma Monday." It was all about taking treatment in sequence, and doublet therapy, and saving our options. This year, we are looking forward to over 700 abstracts about myeloma!
Each of the patients and leaders that are attending #ASH19 with the IMF have selected topics that they are most interested in to report on this year (from a patient's perspective.) The IMF will also have tons of videos from the myeloma specialists for the clinical details. Make sure to check those out as well.
CAR-T continues to be a hot topic, so I'll be interested to see details on
The Chinese LEGEND CAR T #579
And of special interest the fully humanized CAR T data #582. Dr. Durie recently explained to me the importance of fully humanized cells vs chimeric cells. Basically, fully humanized CAR T cells are less toxic, and potentially can be used again if necessary.
A few years ago, my wife Robin and I, were invited to go to the bluebird bio headquarters in Cambridge, MA. There, we learned about their bb2121 (now bb 21217) CAR T trials #927 and were/are very enthusiastic for the future. We also had the opportunity to tour Celgene's CAR T facility in New Jersey earlier this year (see pix below with Dr. Brian Durie, Susie Durie, me, my wife Robin, and Chad Saward.) When people talk about "rocket science" this is our future! It's a complex process and will take time to see where these new therapies will play a role in up front and relapsed/refractory therapy.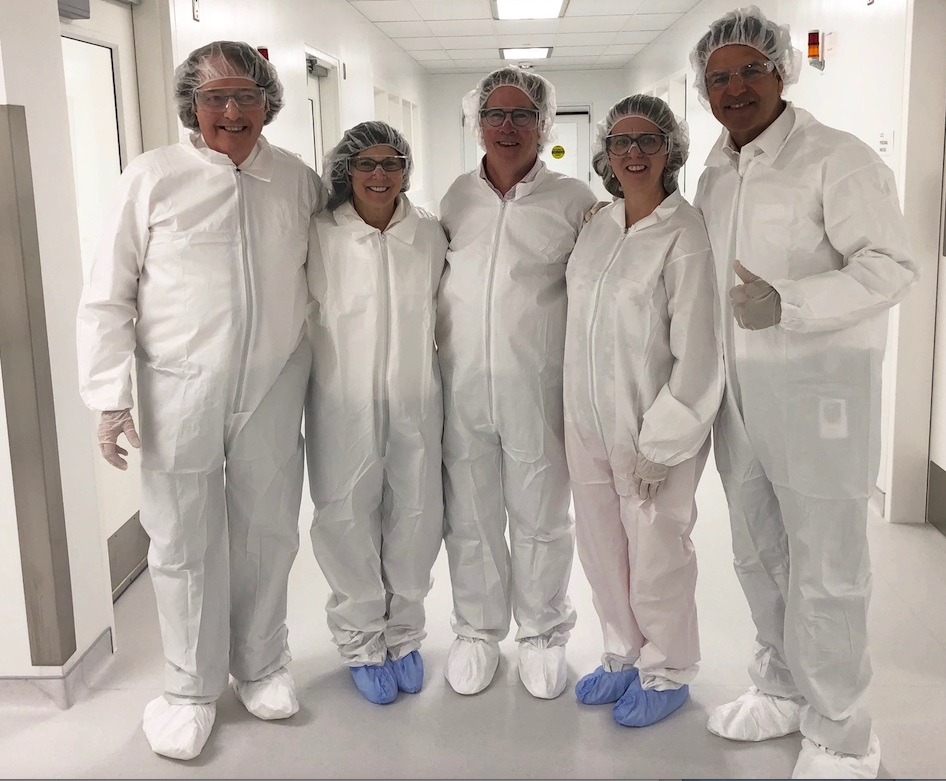 However, what I'm most interested in this year at #ASH19 is bi-specific T cell engager (BiTE) therapy. What excites me the most about BiTE therapy is that it harnesses the power of the immune system by linking the myeloma cell to the T cell (your immune system), basically acting as a bridge to bring them together.
In Dr. Durie's recent blog: "ASH Top 10 for 2019: Immune Therapies Again Dominate the News"
he discusses a very promising new BiTE trial from Celgene #143. It's unique in its design as it has TWO arms that bind to the BCMA on the myeloma cells and ONE arm to the T cell. Also promising results with a high level of minimal residual disease (MRD) negativity at 10-5 level in heavily pre-treated patients.
Some of you may know that I'm a music lover, and I've had a band on and off for over 20 years. I like to lighten up my blogs with some music trivia or by adding a song to leave you with. So for my Pre-ASH blog and in tribute to BiTE therapy, here's a tune from 1987, Def Leppard . . . "Love BiTEs". Enjoy!
(P.S. This is from the 1988 Hysteria tour that I got to see live with opening act Tesla)