Hello everyone, since it's that time of year when we are thinking about "All of Our Favorite Things," I thought it would be nice to share with you just a glimpse of some of my favorite things from at ASH. These are in no particular order, except chronological, so I can think about each day's focus and excitement.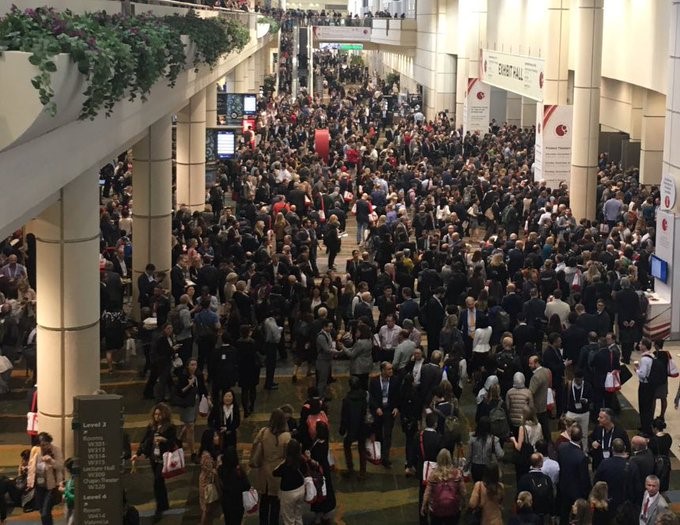 Friday, December 6
The IMF holds their annual Symposium where an esteemed panel of international experts offer their perspectives on practice-changing data and optimal management of patients with myeloma. This year's program was entitled "Approaches to Achieve the Best Possible Outcomes in Myeloma."
As a 19-year myeloma caregiver, I appreciate this program. It provides information so I can learn the various opinions of how particular patients may be treated and the options and side effects to consider. Each case is presented and myeloma specialists provide their opinions. The audience is made up of hematologists/oncologists from all over the world. After each case is presented and before before the specialists provide their opinions, the audience votes on the best options. The audience votes again after the specialists provide their opinions. It's always interesting to see how these doctors may adjust their practice based on what they just learned.
After this program, the support group leaders who attended have our Welcome Dinner together and discuss what we learned, the interesting therapies available, and how the specialists sometimes agree and sometimes respectfully disagree on treatment options. This just shows the importance of seeing myeloma specialists to help determine what may be best for each patient.
You can watch the replay and download the slides here:
https://www.myeloma.org/IMF-ASH-Orlando
Saturday, December 7
Five support group leaders had the opportunity to attend the IMF's International Myeloma Working Group breakfast meeting. Hearing the updates on current projects and collaborations amongst over 200 myeloma specialists around the world who are working together to help our entire myeloma community is always inspiring.
The leaders also had selections of simultaneous programs to attend. I chose to attend an Education Program on managing care in multiple myeloma.
Dr. Kaufman (Winship Cancer Institute, Emory University, Atlanta) summarized recent advances in risk stratification of patients with myeloma. He described current definitions of high-risk myeloma and how this is changing in the era of next generation sequencing as well as how to adapt therapy for patients with high-risk myeloma. Dr. Kaufman presented Emory's algorithm for newly diagnosed multiple myeloma.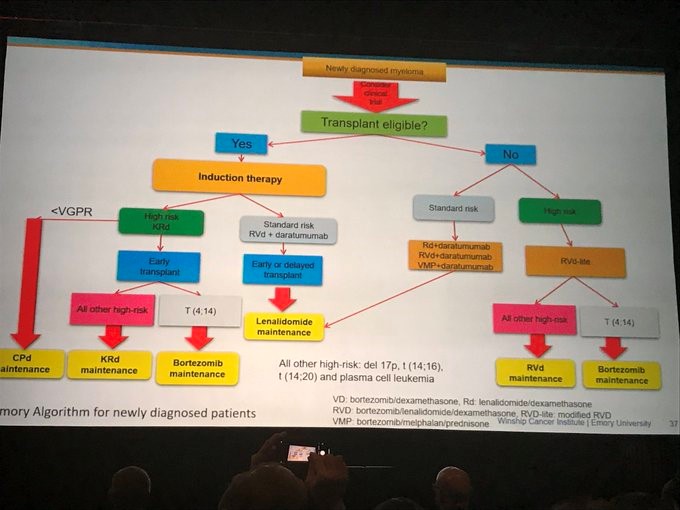 Dr. Lentzcsh discussed the challenges facing clinicians in treating relapsed and refractory myeloma patients who are not eligible for clinical trials. She describe recent FDA approvals for agents in the refractory setting and how to adapt therapy for refractory myeloma. Here is her conclusion slide for Relapsed/Refractory Myeloma Therapy 2019.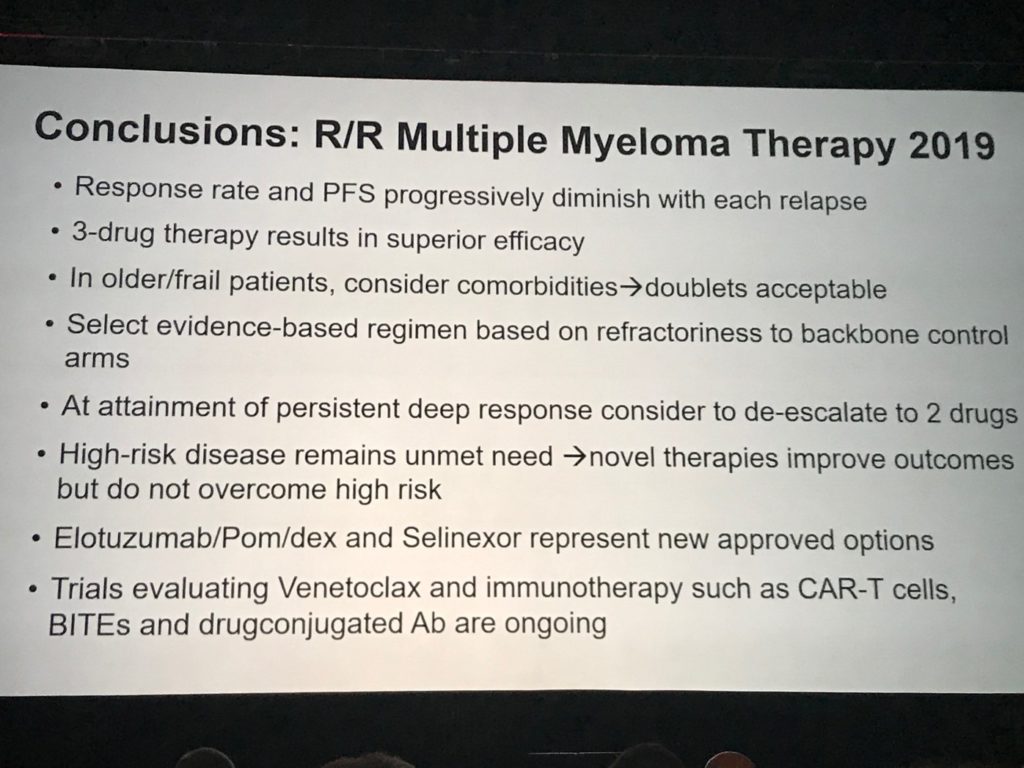 Dr. Manasanch clarified challenges in the use of minimal residual disease (MRD) testing in patients with myeloma. She described the utility of MRD testing and when to use it in current clinical practice. She also described current clinical trials using MRD as endpoints for altering therapy in myeloma.
Here is the link to the ASH Education Session:
https://ash.confex.com/ash/2019/webprogram/Session16161.html
Saturday concluded with the IMF's Patient Stories & Grant reception, which were previously reported on in these blogs:
Michael's blog on patient stories:
Monday, December 9
Monday was filled with myeloma sessions, so many, that it's impossible to select. That's why I'm just going to report on one that I know will interest interest many myeloma patients and caregivers.
The first abstract was on "CARTITUDE-1: A phase I/IIb Study of JNJ-4528, a CAR-T Cell Therapy Directed Against B-Cell Maturation Antigen (BCMA), in Patients with Relapsed and/or Refractory Multiple Myeloma (R/R MM)."

Dr. Durie blogged on this as follow-up of the original Chinese Legend CAR T-cell presentations and data, and for the U.S. CARTITUDE study data on JNJ-4528, the Legend CAR T product now under development by Janssen. The results with JNJ-4528 replicated the Chinese findings of a high response rate and excellent tolerance. The FDA awarded JNJ-4528 "breakthrough" status, which will move it closer to potential approval in 2020.

What impressed me was Dr. Deepu Madduri who presented on CARTITUDE, paused to reflect and while showing her waterfall slide below stated "I'm going to take a moment here to pause so you can take this in: a 100% response rate!"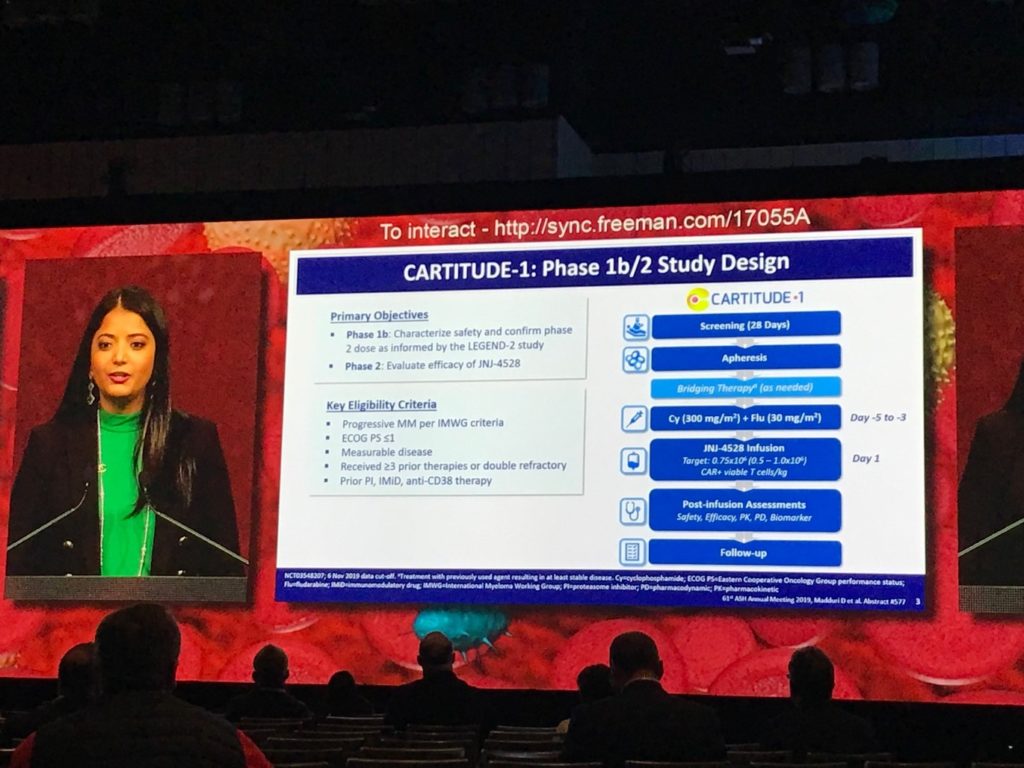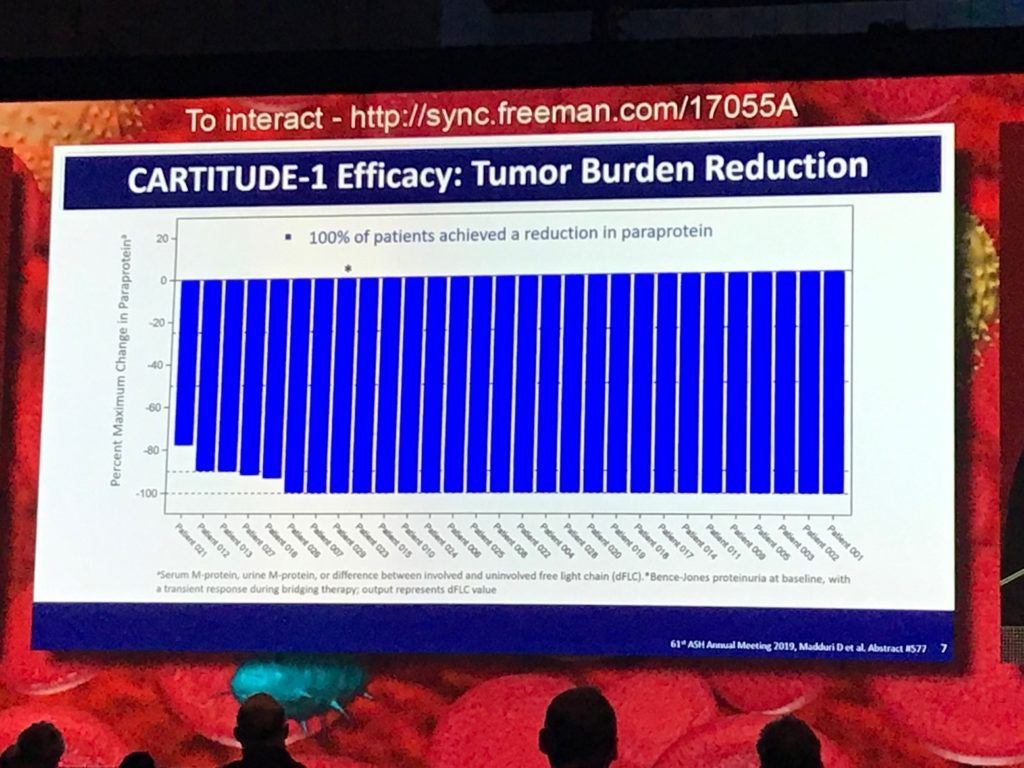 At ASH 2019, we learned more than ever about
smoldering myeloma
a new criteria for high-risk smoldering
newly diagnosed treatment protocols
relapsed/refractory treatment protocols
potential new standards of care for myeloma patients
Lots of interest in results from CAR T-cell therapies, the bispecific T cell engagers (TCEs, BiTEs, and BEATs) and monoclonal antibody approaches. Immune therapy presentations were numerous, and something we are all following closely. My best advice is to check out the below resources and have key discussions with your own hematologist/oncologist at home about what's best for you now and what may be your best options in the future.
Please read Dr. Durie's "Key Take Away's from ASH" for so much more!
https://www.myeloma.org/cure-blog/takeaways-ash-2019
Reminder: Mark your calendar for January 9, 2020 for Dr. Durie's free teleconference on "Best of ASH: What Myeloma Patients and Caregivers Need to Know." Here's the link to register:
https://www.myeloma.org/videos/best-ash-2019
I'm going to wrap up my post ASH blog and suggest that you review the below link to have a better understanding of myeloma options today, and to be hopeful and feel positive as we move forward into 2020!
Your one stop guide and link to ASH 2019:
https://www.myeloma.org/imf-ash-2019
Wishing you wonderful Holidays filled with Peace, Good Health, and Happiness!