Relapsed/Refractory Multiple Myeloma (RRMM) patients often face difficult and diminishing treatment options. We have effective immunomodulatory drugs (IMiDs), proteasome inhibitors (PIs,) and monoclonal antibodies ( (MoAbs), but what do patients do when these drugs lose effect? New immunotherapies such as CAR-T and BiTEs help patients late in their disease if they meet inclusion criteria. Also, clinical trials are available. The FDA recognized the plight of these patients and gave accelerated approval to selinexor in July, 2019.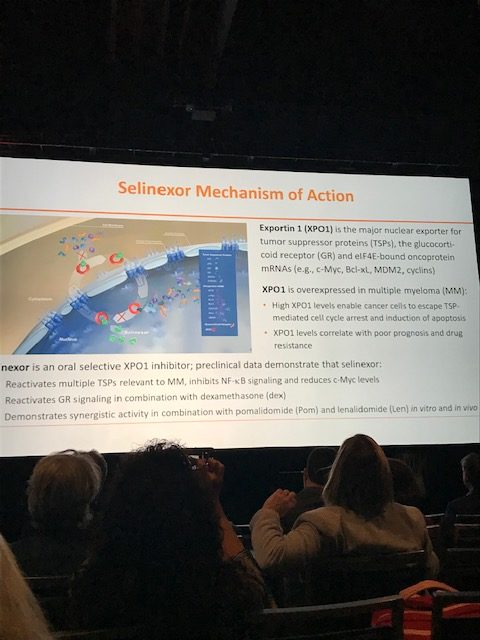 Many abstracts (I count at least 13 at ASH, along with 12 posters) highlight this new drug which has a unique mechanism of action (see my pre-ASH blog), and is currently FDA-approved along with dexamethasone for RRMM myeloma patients who are refractory to two proteasome inhibitors, two IMiDs, and an anti-CD-38 MOAB….In other words, patients who have nearly ran out of treatment options.
At an oral presentation Saturday morning , Dr. Christine Chen updated information on one arm of the STOMP clinical trial using selinexor, pomalidomide, and dexamethasone. Forty-eight patients receiving SPd had an ORR (overall response rate) of 58% compared to 31% of patients who only received Pd. Their duration of response was considerably longer too, with a progression-free survival of 12.2 months (SPd) compared to fewer than 4 months (Pd). Lastly, I was excited to see a possible treatment for myeloma patients for whom CAR-T therapy has failed. What can these desperately ill patients do?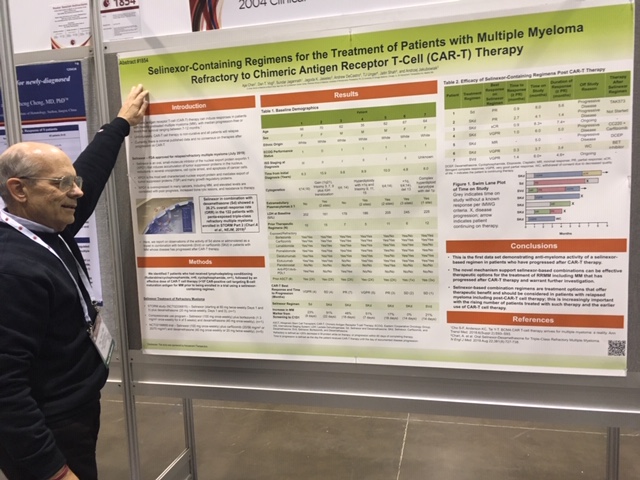 Poster #1854 shows the use of selinexor-containing regimens for patients refractory to CAR-T therapy.