Daratumumab (dara), trade name Darzalex, received breakthrough therapy drug status in 2013 for multiple myeloma. Daratumumab is a monoclonal antibody directed against CD38, a molecule present on myeloma cells. Since it's inception, it has taken the myeloma world by storm.
In late 2015 daratumumab was approved by the U.S. Food and Drug Administration (FDA) for treatment of multiple myeloma in patients who had received at least three prior therapies. By the end of 2016, the FDA approved daratumumab in combination with lenalidomide or bortezomib and dexamethasone for the treatment of patients with multiple myeloma who have received at least one prior therapy.
The FDA expanded the approval of daratumumab for use in combination with bortezomib, melphalan, and prednisone to include the treatment of patients with newly diagnosed multiple myeloma who are ineligible for autologous stem cell transplant in May 2018.
During the annual meeting of the American Society of Hematology, I had the privilege of sitting in on numerous abstracts that discussed the use of daratumumab in newly diagnosed transplant in-eligible myeloma patients as well as its use as a maintenance regimen.
Dr. Maria-Victoria Mateos presented abstract 0859, "Daratumumab plus Bortezomib, Melphalan, and Prednisone Versus Bortezomib, Melphalan, and Prednisone in Patients with Transplant-Ineligible Newly Diagnosed Multiple Myeloma: Overall Survival in ALCYONE study." This study concludes that the addition of dara to Velcade (bortezomib), melphalan, and prednisone, prolongs overall survival in newly diagnosed transplant-ineligible patients. After a median follow-up of 40 months, there was a 40% reduction in the risk of death versus Velcade, melphalan, and prednisone alone. Dara plus Velcade, melphalan, and prednisone continued to demonstrate a significant progression-free survival benefit, which was also maintained during the subsequent line of therapy.
The findings of the ALCYONE study, along with the with the phase III MAIA study, which uses dara plus lenalidomide and dexamethasone vs lenalidomide and dexamethasone alone, continue to support the addition of dara to frontline treatment regimens in newly diagnosed, transplant-ineligible patients.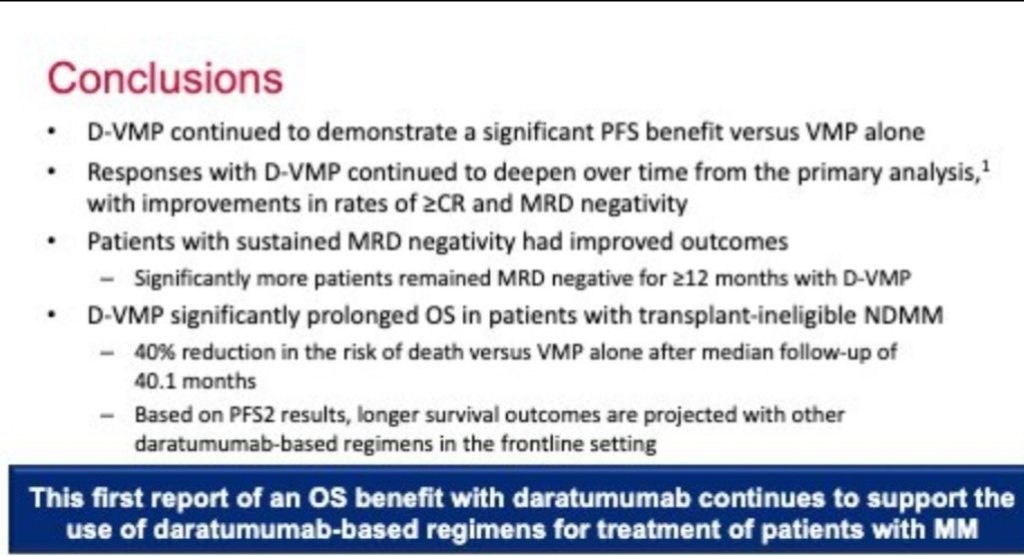 In addition, dara continues to prove its benefits as maintenance therapy. Dr. Robert Rifkin presented abstract #863, "Daratumumab (DARA) Maintenance Therapy Improves Depth of Response and Results in Durable Progression-Free Survival (PFS) Following Dara plus Cyclophosphamide, Bortezomib, and Dexamethasone (CyBorD) Induction Therapy in Multiple Myeloma (MM): Update of the Lyra Study."
The updated results of the LYRA study showed that maintenance with dara alone for 12 months increased the complete response rate in newly diagnosed and relapsed patients. This is consistent with what has been observed in previous studies that show longer Dara treatment improves depth of response. Noting that the increase in complete response rate was associated with long-lasting progressio- free and overall survival. Data shows that dara plus CyBorD is safe, and dara maintenance increases depth of response and achieves durable remissions in myeloma.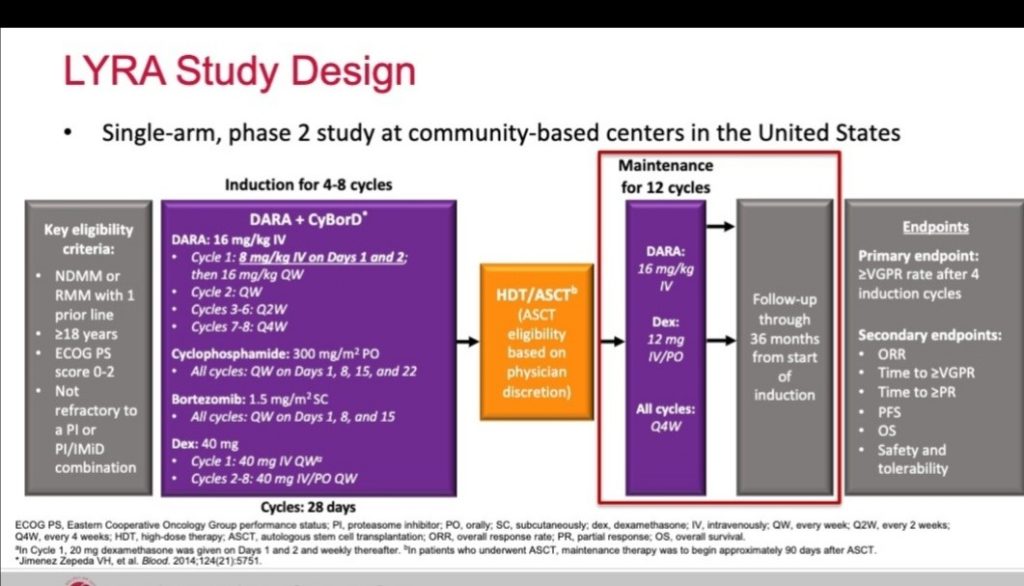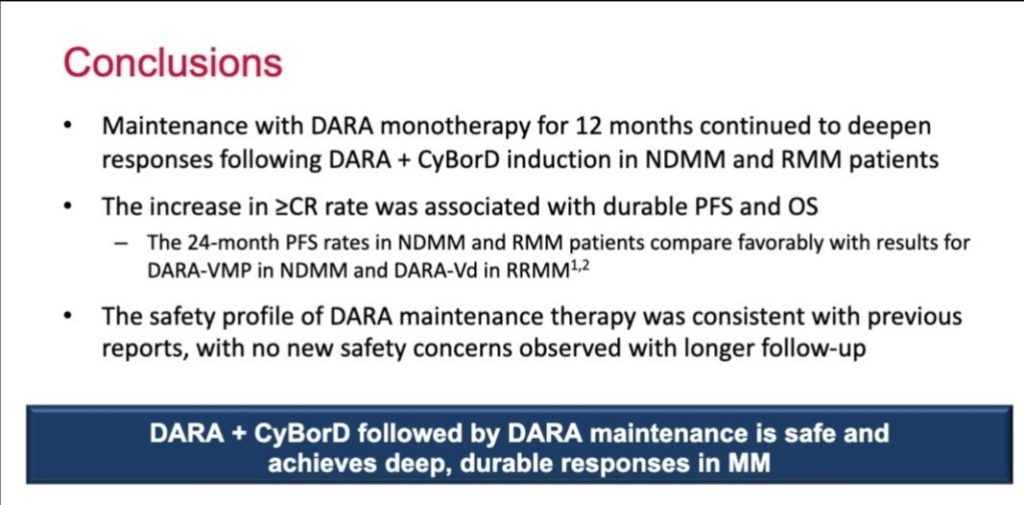 Valarie Traynham, Aurora IL Multiple Myeloma Networking Group