Immunotherapy was front and center at this year's American Society of Hematology's (ASH) meeting. There even was an Education Session presented by Drs. Shah, Cohen and Borello on this topic. When I first attended the ASH Annual Meeting in 2012, immunotherapy was still in its infancy. The treatments that were being examined in clinical trials back then are now moving to the market.
There are different classes of immunotherapy based on the drug's mechanism of action. Immunotherapy in myeloma includes monoclonal antibodies (mAbs) which are now being called "Naked Antibodies" in some presentations, antibody drug conjugates (ADCs), bispecific antibodies (BsAbs), and CAR-T cell therapy. Additionally, checkpoint inhibitors are being examined once again as a way to tweak the immune system to respond in combination with other immunotherapies. Checkpoint Inhibitors such as pembrolizumab did not have single agent activity and proved too toxic when combined with lenalidomide (Revlimid). Other immunotherapy approaches include cancer vaccines and marrow-infiltrating lymphocytes (MILs).
I first heard about CAR-T cells in myeloma at #ASH15. Dr. Kochenderfer presented the results of the National Cancer Institute's (NCI) BCMA CAR T-cell trial to a standing room only audience at a late breaking abstract session. Only 12 patients were treated on this NCI Phase 1 Trial and the results were not mature, but I knew deep down CAR T-cell therapy would make it to myeloma patients. This year we heard the updates from several ongoing CAR-T cell trials. I also learned how the CAR-T cell is constructed is very important. Not all "CARs" are equal. There may be some Yugos and some Lamborghinis emerging. If you search my @MyelomaTeacher Twitter feed with the hashtags #MMSM and #ASH19 you will be able to view the slides that were presented during these sessions. Below is the Conclusion Slide from Janssen's CARTITUDE (a CAR-T cell with an attitude) study.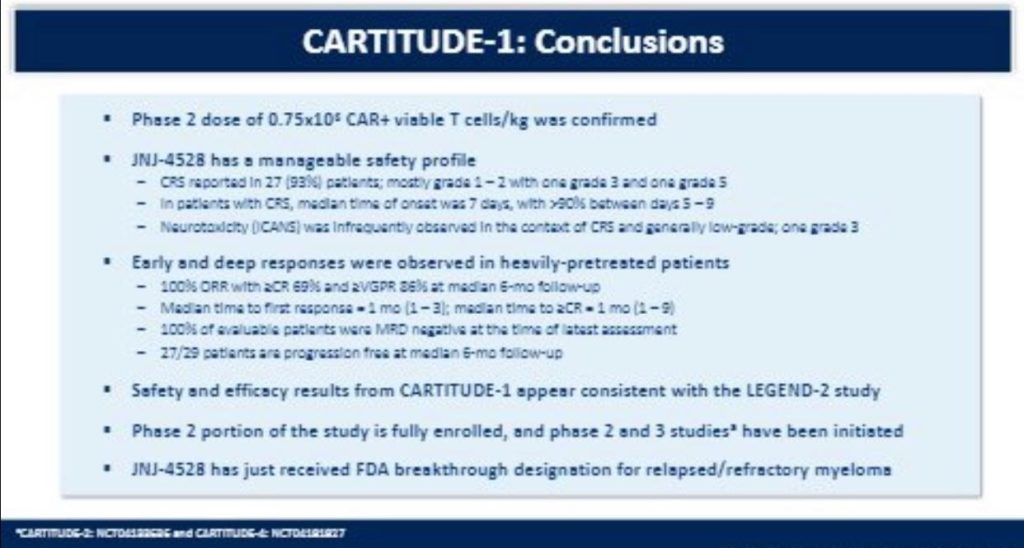 At #ASH17 I learned about antibody drug conjugates (ADC). During  #ASH17 a session discussing the DREAMM-1 Trial showed great success with its first in human antibody conjugate– GSK2857916.  This antibody drug conjugate now has a name- Belantamab mafodotin or BelaMaf for short.  Updates on this trial were presented this year. BelaMaf will likely be approved in the near future. I also learned that other ADCs are entering the myeloma pipeline. See the chart below shared by Dr. Adam Cohen of the University of Pennsylvania.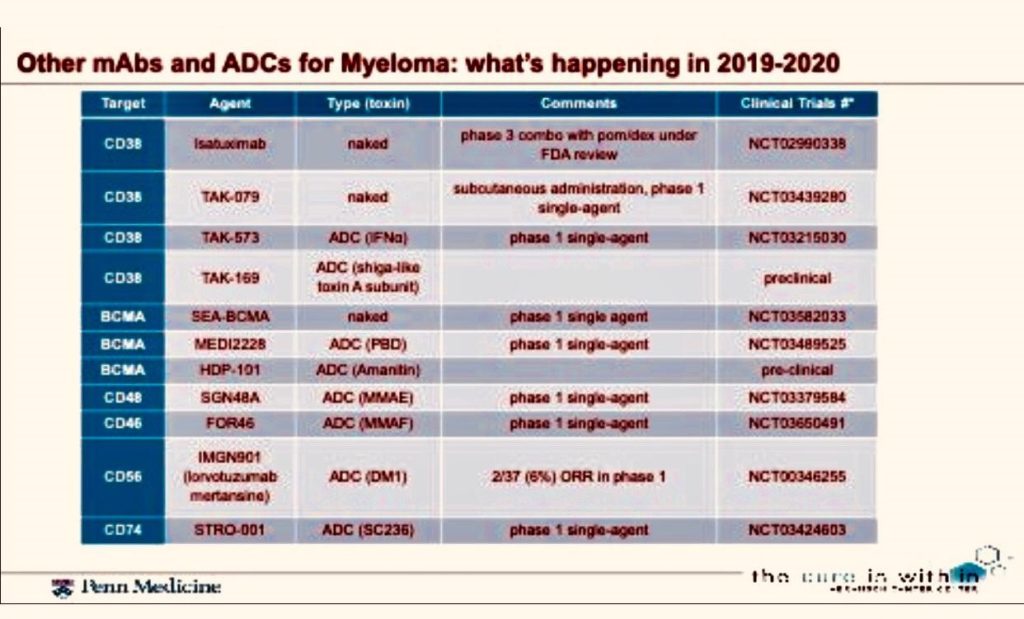 Late year Amgen brought BiTEs to the fight. A BiTE is a type of bispecific antibody (BsAb). Bispecific antibodies bind to both T cells and cancer cells. The BiTE data presented last year looked promising, but Amgen decided to halt the AMG420 BiTE because of its continuous multi-day infusion time. Amgen is moving forward with its new BiTE AMG701 which is much more patient friendly.  Others are moving into the Bispecific Antibody space as well.  I look forward to hearing about their progress in the future.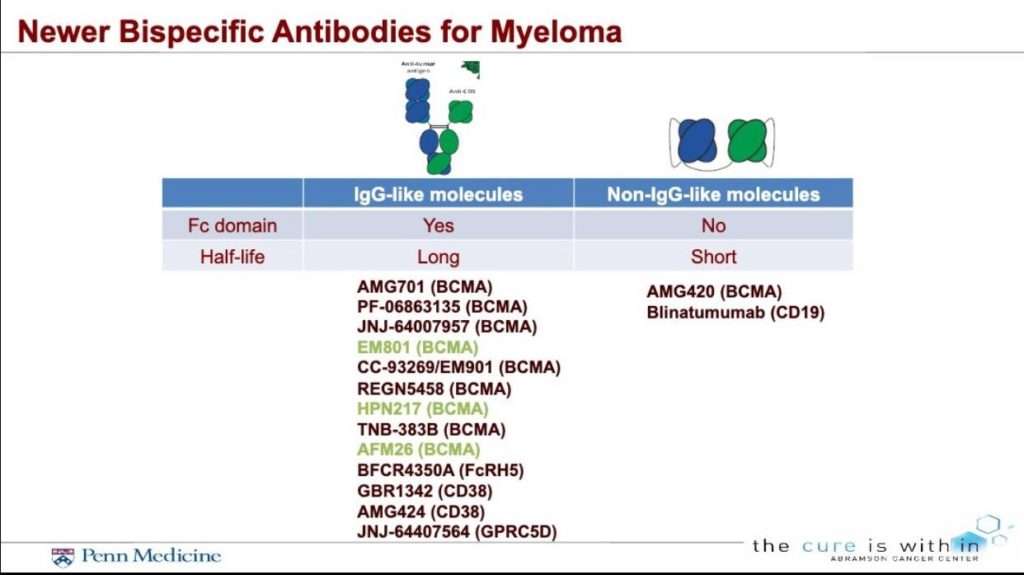 Bispecific antibodies may give CAR-T cell therapy a run for its money in this humble patient's opinion since they are an off the shelf product eliminating the time needed for manufacturing a patient-specific CAR- T cell.  Dr. Cohen shared a chart comparing these immunotherapy approaches during his presentation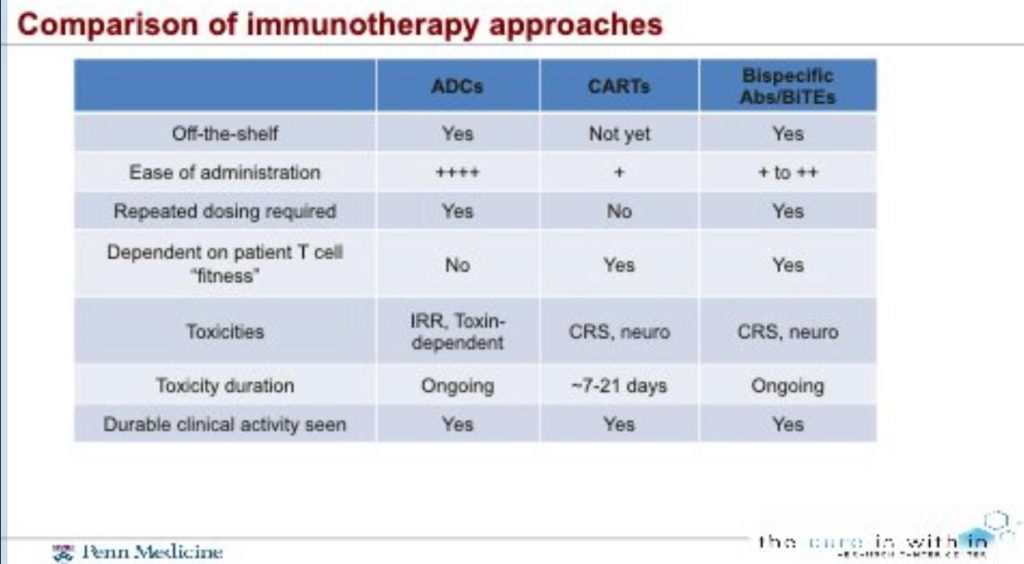 The next step to successfully bring these newer immunotherapies to the forefront involves learning to manage their unique side effects. Reported side effects include the corneal toxicity of BelaMaf and the cytokine release syndrome (CRS), neurotoxicity and infections related to the CAR-T cells and BsAbs. Researchers are now investigating how to incorporate these immunotherapies with the other approved myeloma agents and the proper sequencing of these new lifelines.
I left #ASH19 feeling hopeful, empowered and exhausted.