In the United States, twelve novel drugs have been approved for the treatment of myeloma over the last 16 years driven by results of clinical trials similar to those that are being presented here at #ASH19.
According to clinicaltrials.gov website, as of December 2019, there were more than 500 clinical trials in progress for myeloma. Actually, there are more than 360,000 clinical trials in progress across disease spectrums around the world. That's really great and hopeful for the various types of diseases. But unfortunately, only 5% of those trials will actually accrue and complete limiting the data various stakeholders have to advance science or improve outcomes.
Some of these clinical trials are poorly designed without any patient input and deserve to die. But even some trials that are well designed, don't complete or accrue patients because of provider bias and stringent inclusion and exclusion criteria. Also, while there are many guardrails to ensure patients are not guinea pigs and the trials are ethical, treating patients as subjects and not as partners, not as stakeholders and not as end-users or not as product consumers exacerbates the problem.
If you look at the clinicaltrials.gov site from early December 2019, about 25% of clinical trials for myeloma reference patients as subjects. That's even true for phase 3 clinical trials that leverage a larger patient population and are closer to real-world-like patient cohorts.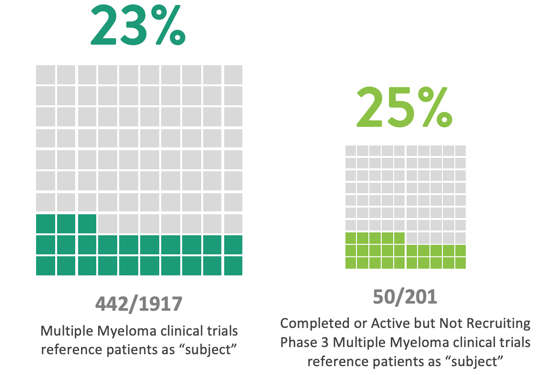 Oh, the fact that researchers, industry, medical providers think patients are failing a treatment rather than the treatment is failing the patient also plays a role in the the accrual challenge.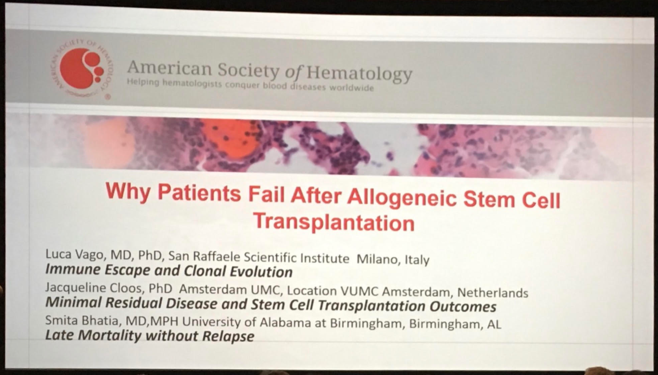 Not treating patients as partners is a missed opportunity by all. Traditionally, industry, academia and research organizations such as NCCTN solicited input from patients for making informed consent forms less intimidating or when a trial has difficulty accruing.
But there are expert patients or patient advocates that can meaningfully engage at trial design, or even during research and development (R&D) or as steering committee members for observational trials. InsightsMM, one of the largest non-interventional myeloma trials, has two outstanding patient advocates on its steering committee; one from the U.S. and another one from Croatia. So, one doesn't have to be limited by geography to find advocates. 
It's up to all of us: industry, academia, non-profits, legislators and us patient advocates to create the avenue for patients to turn to patient experts and patient advocates unencumbered by geography.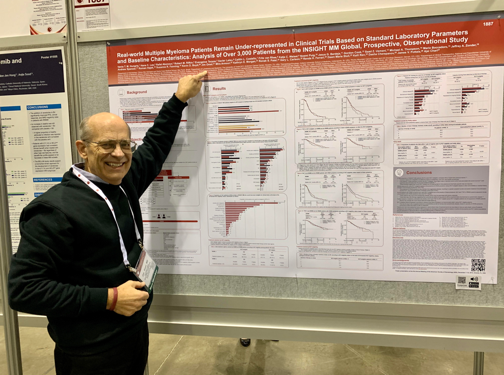 It's also important to know there are generally two types of patient population: those that get treatment and go back to "normal life" and get back to their primary care physician, and those that will be on treatment for the rest of their life with repeated remission and relapse cycle. Most myeloma patients fall in the latter category.
Patients become experts, and patients want to advocate for other patients like them. It's human nature to pave the path, leave a digital and physical footprint, and allow those that come after us to go further.   
If you again look at clinicaltrials.gov site and filter the data for Phase 3 clinical trials for lymphoma and myeloma, over 70% of them do NOT incorporate patient-reported outcomes (PRO) in their design either as a primary or secondary outcome measure. This could be due to underreporting by trials. But even accounting for that, trials often focus on efficacy versus quality of life (QoL) or PRO.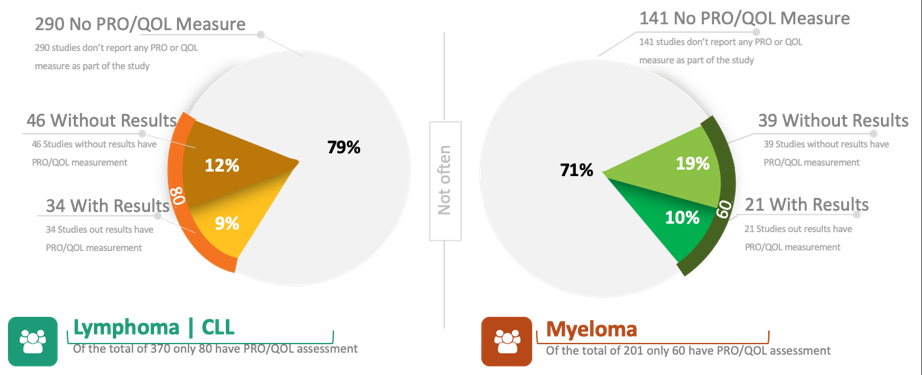 Here at #ASH19, there are several posters, such as the ones below, authored and presented by key opinion leaders (KOLs) that discuss QoL and PROs highlighting the need to ensure balance between efficacy and side effect management (both physical, emotional as well as financial).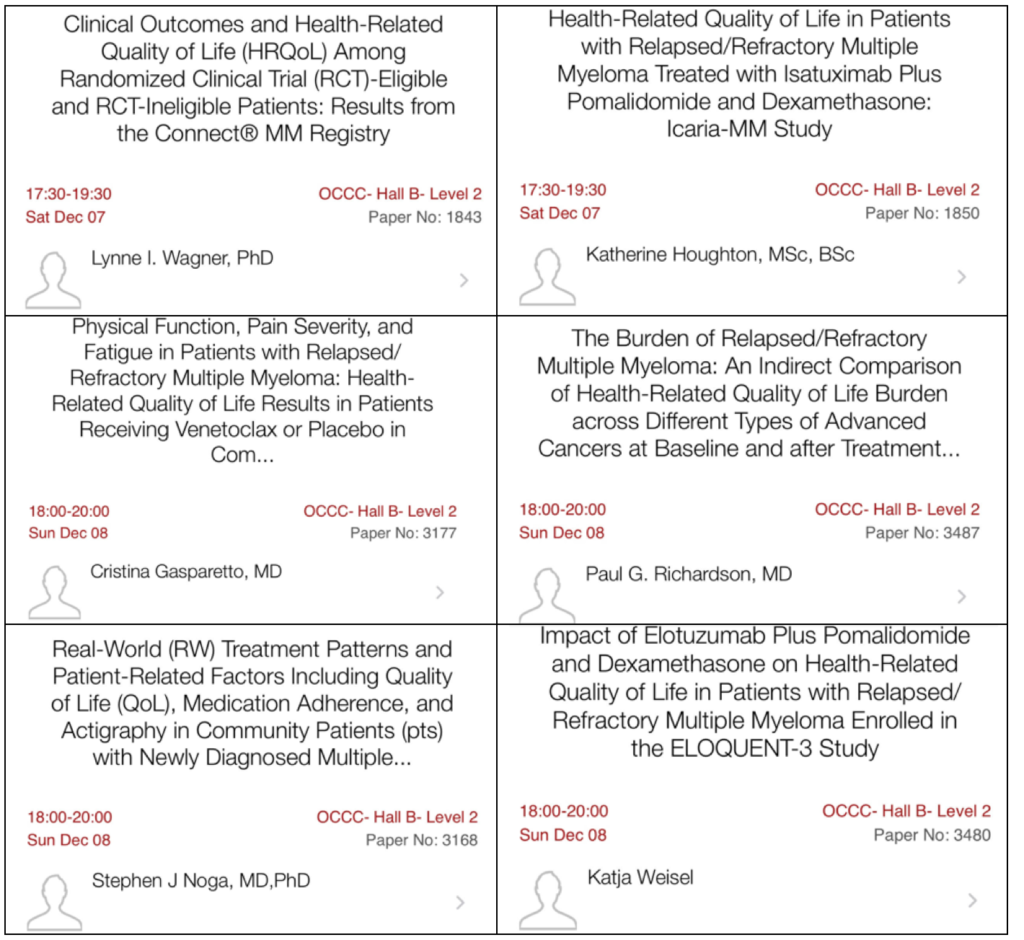 Currently, multiple myeloma is not curable. Many patients have to be on one or other form of treatment for the duration of their life. That's complicated by many remissions, relapses, and disease evolution over time. And the importance of
keeping the door open for future treatments
account for supportive therapies such as radiation, bisphosphonates and steroids 
understanding the cumulative effects of symptoms and treatments over time 
That's why it's important to personalize symptom management, deescalate treatment to allow patients to stay in treatment longer. This will hopefully result in better outcomes and also inform further research to improve both outcomes and QoL:
As part of my personal treatment choice algorithm and equation variables, I need to be alive – without that the rest are mute – but QoL, both physical, emotional, mental is important. But so is my ability to pay for the drug and treatment. And, as important is my ability to integrate treatment into my lifestyle.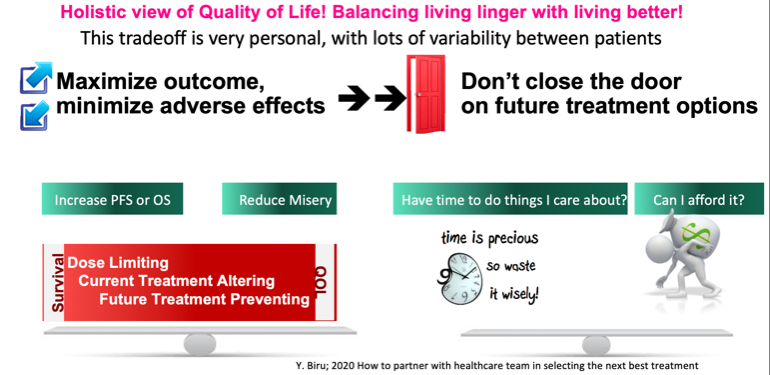 This algorithm is not static and changes over time needs to be personalized to each patient, requires partnership between all stakeholders, and needs to look at the patient holistically.
Most patients, in addition to being well, are concerned about attending important life and family events, pursuing important goals, engaging in daily activities, and the emotional and cognitive side effects of treatment.
But most doctors do what they do best. They do what they're trained to do well. Keep us alive and eradicate the disease at any cost? Maybe we as patients are not speaking enough, or feel empowered to do so, or they've been well trained to not give it as much weight and just use data. There is a good balance between "in god we trust and everyone else bring data" and "I will only want data that supports what I want and my gut feeling."
There are a wide variety of PROs. This creates a variety of problems:
Inability for patients to compare trial results across PROs due to the use of different PROs
Lack of standardization of PRO reporting out
Patient unfriendliness of PRO reporting; although they are written in English, they often require interpretation to patient speak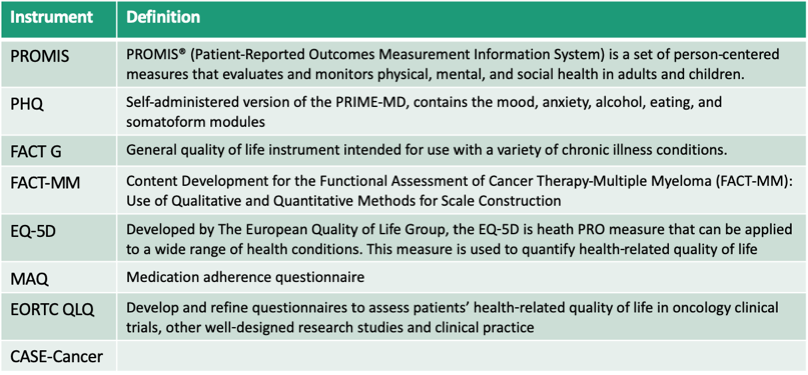 This inconsistency leads patients to seek the information they need from other sources – other patients. As a result, they may make decisions based on real-world evidence, however unvalidated.
Here is an example of patients asking other patients about symptom management, what to expect from treatment, how much the drug worked, how much it costs, and how they pay for it and among others.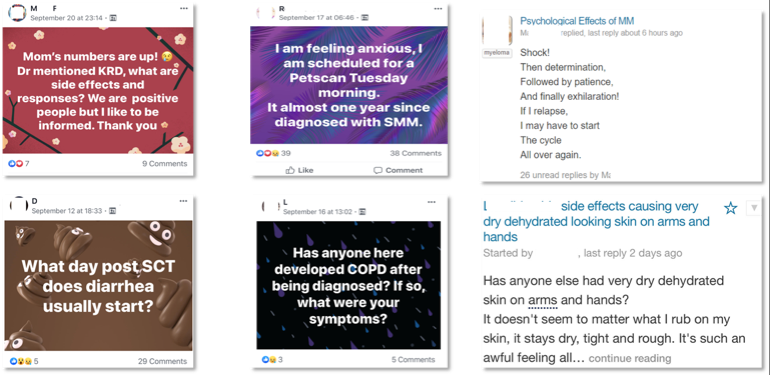 Hence, it's important to ensure there is transparency and harmonization of PROs as well as close the loop and give the data back to the patients *both in the trial and outside.* 
In order for PROs to actually affect the patient outcome, they need to be not only collected but acted upon by the healthcare team at the time they will make a difference.
The study of Ethan Bash in Jama Oncology also supports this conclusion and the fact that resolving adverse treatment symptoms do have a positive downstream effect on outcome.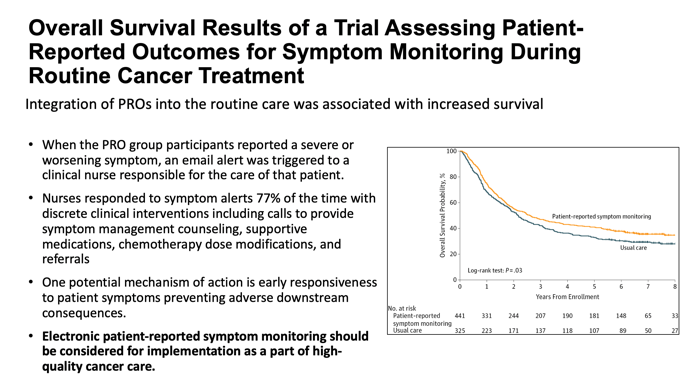 Better QoL, earlier symptom management and integration of QoL measures usually will correlate with better survival – so clinical efficacy endpoints may be achieved when we address QoL achieving a win-win for all!
Sharing the Hope
—Yelak @NorthTxMsg