Last evening, the International Myeloma Foundation hosted the "Living Well with Myeloma" and the 2020 Brian D. Novis Grant Award Reception. I had the pleasure of meeting three fellow myeloma warriors, Tim Gavallas, Dan Neidert, and Doug Farrell. Listening to the patient speakers share their stories brought back many memories from last year when I had the opportunity to share my story of what being a myeloma warrior meant to me. I remember the anxiety I felt about speaking in front of the audience. As I looked around the room I experienced memories of how large the room was, the heat from the spotlights, and wondering if anyone really wanted to hear what I had to say.

Each of the patient speakers identified what "Living Well with Myeloma"meant for them. For Tim, it was Climbing the Mountain, for Dan it was The Power of Acceptance, and for Doug it was Staying with It. As Tim began to share his story, it reminded me that we all have things that drive our desire to see a cure for myeloma. Things that give us great hope. Tim shared his love for the great outdoors and how he refuses to let myeloma steal away the fun times he has with his twin boys, going on hiking trips, and being a lieutenant with his local police department.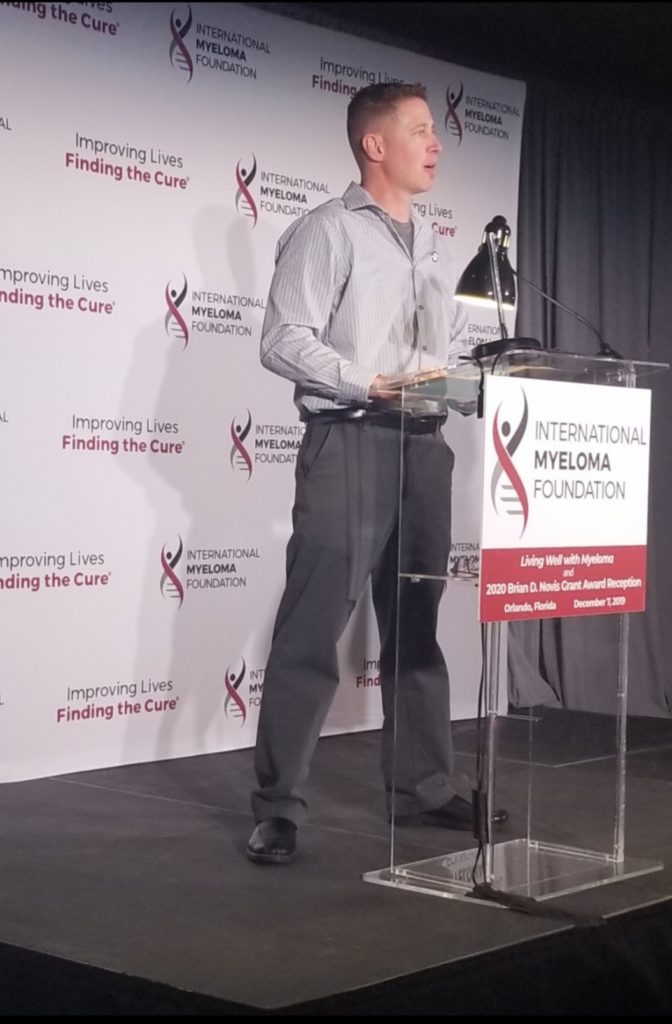 He's even put off having a stem cell transplant in order to climb Mt. Kilimanjaro with other members of the police department for the Special Olympics.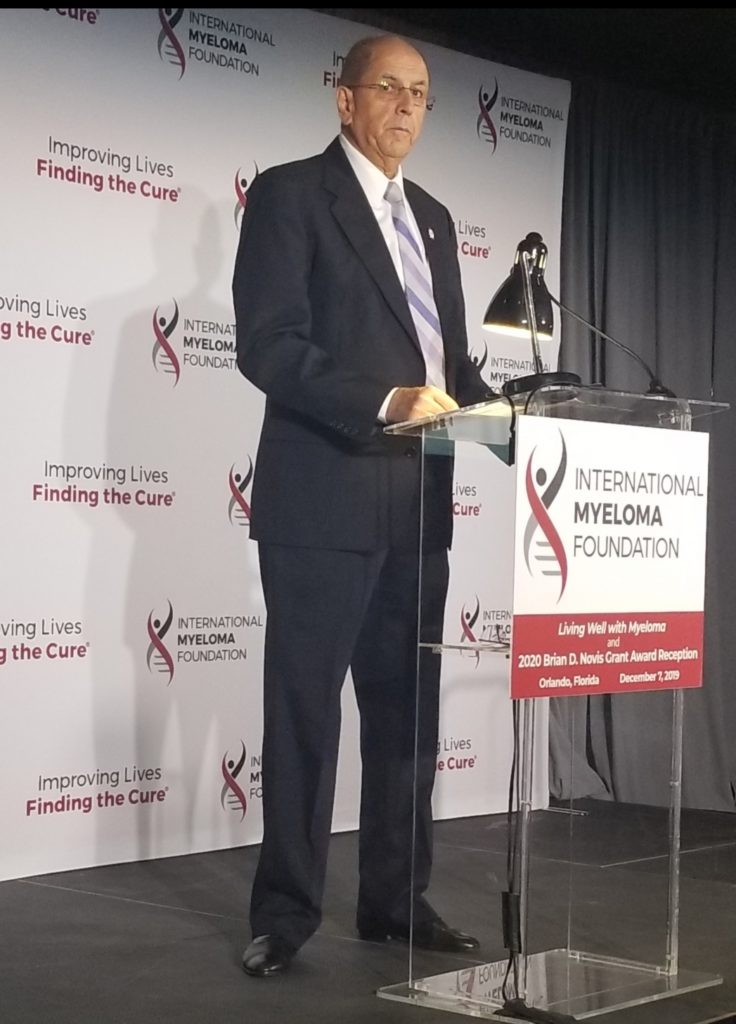 Dan, a fellow support group leader from Fort Myers, Florida, talked about how it was hard to accept that he had myeloma at first. Once he accepted the diagnosis and went through treatment, he was able to get back to one of the things he and his wife enjoyed—traveling. A great victory for Dan was accomplishing the goal of traveling to all 50 states. He and his wife Barbara look forward to continued travel and time playing golf.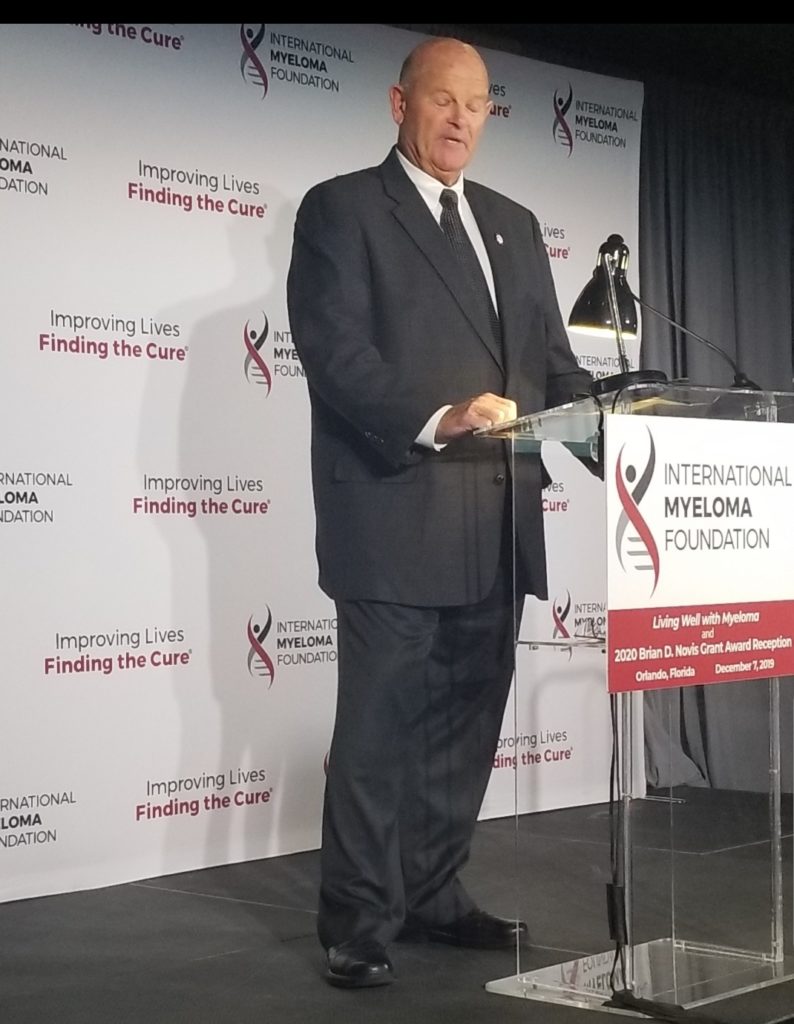 Doug shared of the wonderful works that he does with fundraising within his community. He has recently participated in the Captain Turner swim-a-thon. Doug is also a wonderful singer. He treated the audience by singing "When Irish Eyes are Smiling."


Comedian Rene Hicks was scheduled to be a patient speaker as well. However, due to an unexpected upper respiratory infection, she was not able to travel to attend.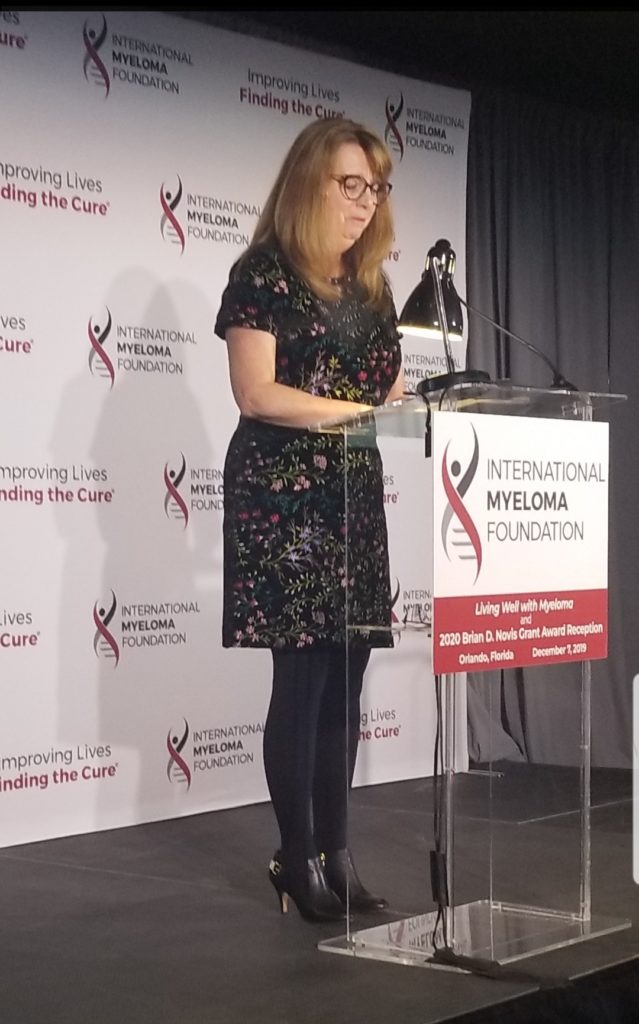 In Rene's absence, Robin Tuohy did an excellent job sharing some of her story. Living with the uncertainty of not knowing when sickness will hit is one thing myeloma patients deal with on a regular basis. This may slow us down, but most of the time, we can bounce back. We are resilient.

What represents resilience is different for everyone. As each patient speaker spoke last evening, they shared what resilience meant to them. One commonality I found was that resilience stems from hope. Hope that one day there will be a cure for Multiple Myeloma.

At ASH, I can see aspects of hope all around. This comes in the form of data released on the latest clinical trials to the collaboration of researchers, doctors, and patient advocates working together. I witnessed this collaboration first-hand yesterday morning at the IMWG breakfast. Several ideas were presented. With over 200 doctors present, many had different opinions. Sometimes egos can get in the way and cause dissension, but this was not the case. They each listened to each other, asked questions, and shared opinions.

Because of hope, we—as myeloma patients—can plan for the future. Be it the next outdoor adventure, a trip to a favorite spot, or family celebrations—we can live life to the fullest: Standing firm that a cure is soon to be found.

Continue to follow the entire IMF patient representative team's tweets and blogs as we share our perspective from #ASH19.

Valarie Traynham, Aurora IL Multiple Myeloma Networking Group

@MyelomaValarie