"During a two-week span in November, the Food and Drug Administration approved three new drugs to treat multiple myeloma, a rare form of blood cancer that kills an estimated 11,000 Americans a year. The approvals, along with others in recent years, are beginning to alter the prognosis of a disease that once amounted to a death sentence for many patients.

Until last month, seven drugs had been approved for multiple myeloma, which causes malignant plasma cells to build up in bone marrow, where they crowd out healthy cells, hinder the body's ability to fight infection, and lead to problems, such as tumors and kidney damage. Now there are 10 treatments available, some unlike any that have come before." Washington Post December 2nd, 2015. 
This was right after the US FDA approved Darzalax, Ninlaro, and Emplicity for the treatment of myeloma all in one month! It was an exciting and hopeful month. It was an approval that opened the door for many different combinations of treatments. It basically caused the available treatment combination for myeloma to exponentially increase. With it, hopefully, the overall life expectancy for some myeloma patients.
Since then, a new type of drug, Selinexor, was FDA approved for late stage myeloma. And a groundbreaking treatment for myeloma has been introduced in the setting of clinical trials. CAR-T (chimeric antigen receptor-modified T cells) treatment showed great potential for the treatment of myeloma. The early indication was the PFS (Progression Free Survival) was unlike any; close to 16 months.
Various International Myeloma Foundation (IMF) led Black Swan Research initiatives are underway. These research initiatives will lead to a better treatment outcomes and better quality of life for myeloma patients and their families.
But… this is a big but… I have met myeloma patients that have gone through the novel therapies (Monoclonal Antibodies, Immunomodulatory drugs, and Proteasome inhibitors) AND CAR-T clinical trial AND other therapies lost their battle with myeloma.
The 61st annual meeting of the American Society of Hematology meeting will take place from December 7th through the 10th in Orlando Florida. Tiffany, one of the patient advocates, support group leaders who will be attending ASH sponsored by the IMF said it best: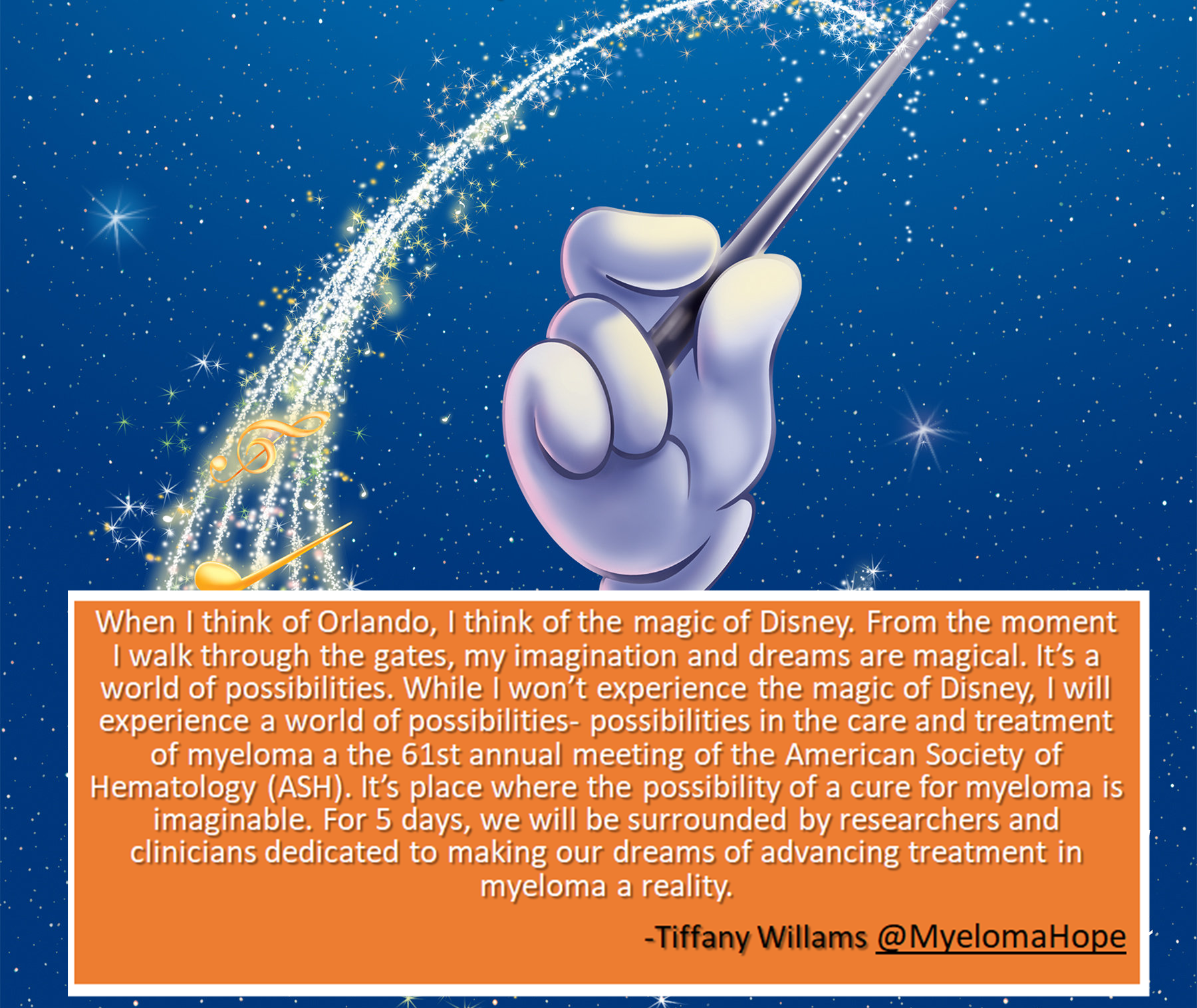 What are the #ASH19 presentations several of the myeloma social media influencers most excited about?
CAR-T and BCMA (B-cell maturation antigen) targeted therapies
Dara based combinations

including four drug combo of Dara+KRD for newly diagnosed myeloma patients,

CRISPR gene-editing technology (called multiplexed gene-editing) to modify CAR T cells for treatment of myeloma
These chart, courtesy of Dr. Mike Thompson on twitter – @mtmdphd – highlights the details of the abstract our myeloma experts are excited about.
I will be tweeting, blogging and discussing the quality of life aspect of these treatments while looking at the exciting future!
Yelak
Sharing the Hope