The last day of #ASH19 is always bitter sweet. Leaders have been attending sessions and meetings, tweeting, and preparing blogs for posting (https://ash2019blogs.myeloma.org); days are long and sleep is limited. The fatigue is setting in (sounds a bit like dex!). We are ready to return home with our minds full and our feet tired. The learning has been plenty, building connections with other patient advocates has been inspiring, and the bonding with Co-SGLs… Well, unmatched. 
The time we spend together is so rich. There is talk about living with #myeloma – the good, the bad, and the ugly aspects. We share what we learn at the different sessions, compare notes, and help each other understand what is really being said. We "razz" each other, but all in good fun. Some conversations include the "dark" humor that is sometimes needed so we can laugh instead of cry, and sometimes, we just cry. I think we were all moved by Dr. Luciano Costa's (University of Alabama at Birmingham) moment of recognition when he, himself, became emotional while at the podium. He was recognized for his strong efforts at proactively recruiting non-Caucasian patients to his study, Paper No: 860 – "Daratumumab, Carfilzomib, Lenalidomide and Dexamethasone (Dara-KRd) Induction, Autologous Transplantation and Post-Transplant, Response-Adapted, Measurable Residual Disease (MRD)-Based Dara-Krd Consolidation in Patients with Newly Diagnosed Multiple Myeloma (NDMM)," resulting in an unprecedented inclusion of non-Caucasian participants. It was a heartfelt moment for all. The SGLs were excited to meet with him, and another #myeloma hero, Dr. Vincent Rajkumar, Mayo Clinic (Rochester, MN).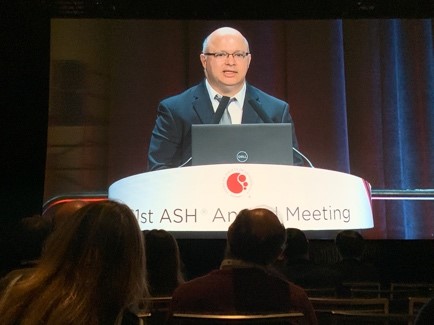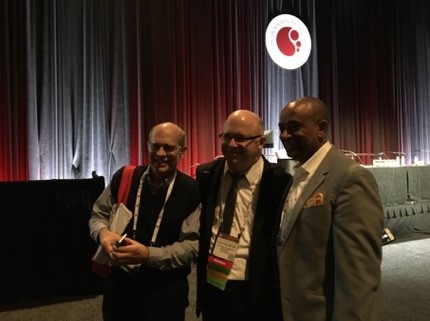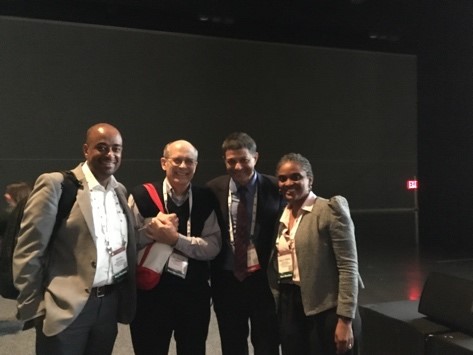 After a long day of sessions and meetings, we convened for one final evening together to watch the IMF's livestream of the ASH19 recap with IMF Chairman Dr. Brian G.M. Durie, Dr. Maria V. Mateos, and IMF Chief Medical Officer Dr. Joseph Mikhael, "Making Sense of Treatment" (https://www.myeloma.org/videos/imwg-conference-series-ash-2019-orlando-fl), which can still be viewed.  As the evening ended, we reluctantly hugged each other good-bye, with hopes of seeing each other soon. For me, these people are part of my family. 
The 61st Annual American Society of Hematology meeting comes to an end, but continue to watch Twitter for post-ASH tweets (#ASH19 #IMFASH19 #mmsm) from the IMF SGLs (@imfsupport @imfmikemyeloma @johnde1Myeloma @IMFjimMyeloma @jackMAiello @NorthTxMSG @LindaMyeloma @myelomahope @MyelomaTeacher @myelomavalarie @blondie1746 @IMFnurseMyeloma) and other top influencers from the meeting. Blogs can be found at https://ash2019blogs.myeloma.org
Until next year, happy holidays from our #myeloma family to yours.
Teresa Miceli, RN BSN OCN
MMSS Facilitator
IMF NLB Member
BMT RNCC, Mayo Clinic – Rochester