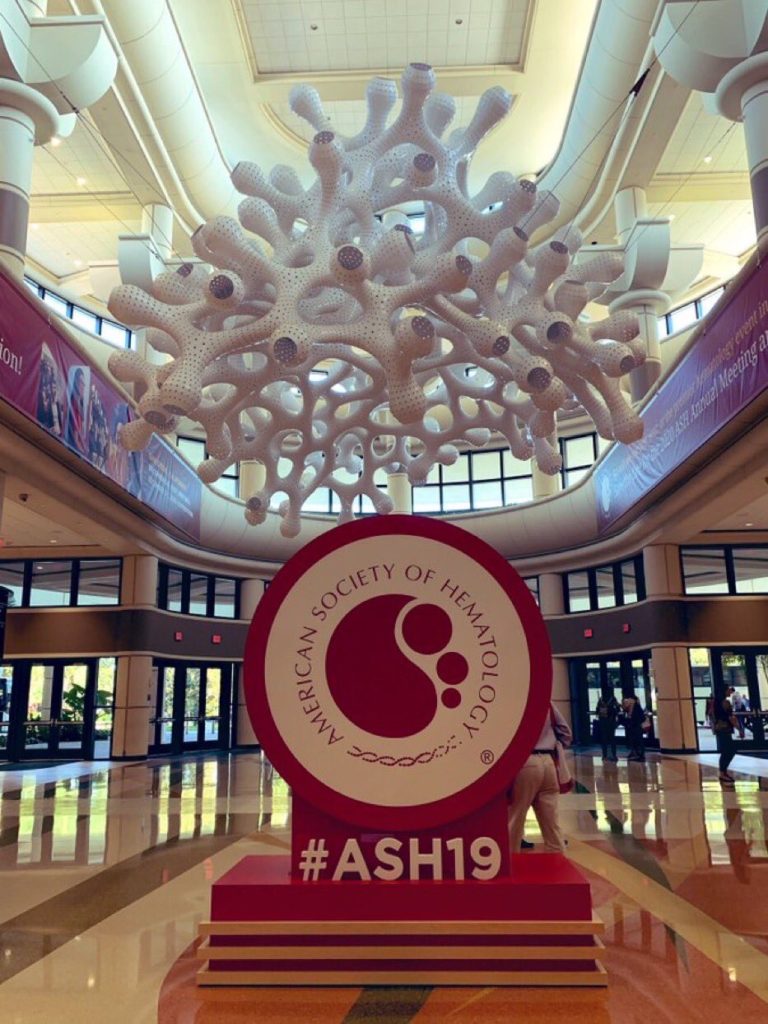 Each ASH annual meeting has its own 'flavor' and emphasis regarding myeloma. I've been to several and remember the excitement of ASH2015 after our unprecedented elotuzumab, daratumumab, Ninlaro, "November to Remember." Last year the emphasis was on early immunotherapy with BiTEs, CAR-T, and ADCs (antibody drug conjugates). This year ASH2019 was definitely another immunotherapy year with reports on more 'mature' trials. There was a new drug approval this year, selinexor, and many discussions regarding venetoclax. However, this was not a "drug year;" it was a year to better understand and work with our own immune systems.
Just as in previous years a highlight was working with all the fellow IMF support group leaders attending to blog, tweet, and report ASH to thousands of people accessing the IMF website. We started early (5:30 a.m. shuttle pick up) and ended late (11:00 p.m. Uber drop-off).
Dr. Morie Goertz said in an interview that there were over 1000 myeloma abstracts at this year's ASH annual meeting. While leading a CAR-T session, Dr. Wendy Stock reported there were 450 CAR-T abstracts at this year's ASH on all blood cancers. At a side meeting, I wrote the words of a speaker who said, "CAR-T is a product within a service" and that "patient experiences matter." She said, "Patients are the source of the material, and the product goes back to them." Companies are trying to shorten the 'vein to vein' collection, manufacturing, transportation, and infusion services as much as safely possible. One company said 28 days, and another is hoping to get it down to 15 days. Much of the needed time involves waiting for T-cells to grow and reproduce. The hope for CAR-T therapy is "one and done" with (1) induction therapy, (2) CAR-T infusion, and (3) no maintenance therapy. However one speaker, in noting relapse rates following CAR-T, mentioned that maintenance therapy could be added to prolong the treatment effect similar to post-stem cell treatment maintenance therapy.
I was happy to notice at ASH a definitely increasing emphasis on patient QOL (quality of life). QOL was mentioned by most speakers as they described their trials, and most myeloma clinical trials include a QOL evaluation component. Living longer is important, but so are happy days with fewer side effects during those longer lives.
Accomplishments highlighted at every ASH meeting the last 15 years have really changed the outlook for myeloma patients. We have new therapies, longer life expectancies, and much better treatment choices at relapses. What we really need is a cure, and as Dr. Susie Durie says often, "We are so close." Yes, we are!!
Jim Omel, MD